Referrals & Rewards Programme
If you own a Go-Pod, you are invited to join our Referrals & Rewards Programme.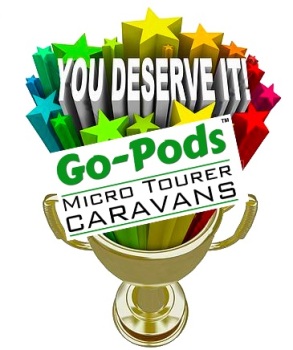 Over 50 owners already show their Go-Pods to new customers & earn rewards.
For many people, travelling to our head office in Lancashire is quite a long journey, so viewing more locally is a welcome option.
Once joined, you will receive an information pack by post. Your first name & first part of your postcode will appear on the locations map of this website. And you'll be allocated a Go-Pod.com email address that forwards requests to your personal email address, maintaining your privacy.
When you receive an request, you can simply repy to arrange a mutually convenient time for them to call and let us know when arranged.
Viewings take around an hour on average and there is no obligation. Please just let us know if you are unavailable and we'll make alternative arrangements for the customer.
Customers are informed that this service is offered as a non-obligated volunteer, so there is an understanding of this before they arrive.
Should they proceed to order after viewing, you'll receive one Go-Pod Credit to exchange for camping items with with Red Lion Caravans Ltd. And you can either be claim your thank you gift right away or let the credits build for an even nicer gift.
Credits
Thank You Gift
1

Khyam toilet / utility tent

1

Khyam bedroom inner tent

1

Go-Pod annual service

1

TV Aerial with suction cup

1

Camping & Caravan Club

Online Membership (£37.00)

1

Inflatable jocky wheel upgrade

2

Small Table Pack

2

Go-Tarp

2

Up to £80 of campsite fees - reimbursed

2
CRiS Registration fee -

reimbursed (£59.99)

3

£120.00 Red Lion shop voucher

4

Khyam XL anwing

4

Winter cover

4

Full colour vinyl side panels
We're adding more Rewards as we go - so they'll always be something new for you to choose. And if you have any reward suggestions, please let us know!
Please complete the form below to join the programme;
After applying we'll send you;
• A guide to conducting viewings.

• A viewing appointment chart.
• A supply of leaflets.

• Go-Pod self cling window sticker.
Window sticker - self cling & easy to remove.
Terms & Conditions: By joining you agree to abide by the rules of conduct for the Referrals & Rewards Programme which includes copying sales@go-pods.co.uk in to all correspondence. On joining you are entering in to a Non-Compete Agreement in which you are not permitted to offer your own Go-Pod for private sale. Persons contacting you via the programme are considered customers of Red Lion Caravans Ltd and the selling of any caravan or camping related item to them will be viewed as poaching clients & in breach of this NCA. Should such a breach come to light, then an invoice in respect of loss of earnings will be issued & persued.