Khyam Tailgate or Tailgate XL Awning.
The Khyam awning is an optional extra that offers additional living space or even extra accommodation if required. Great for families!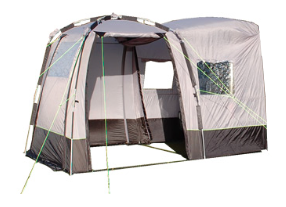 This is a generic awning that attaches to the Go-Pod by way of an awning rail, that's located above the door.
Rail for awning bead - located on roof above the doorway.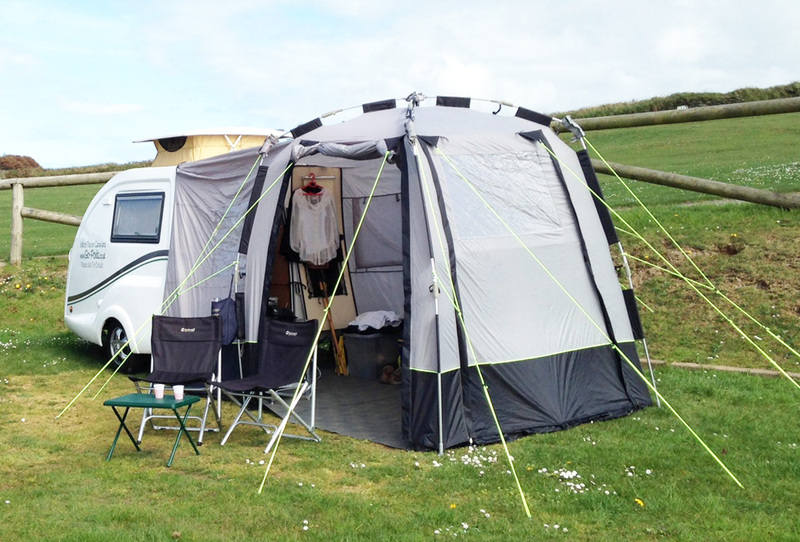 In transit, the awning is packed into a carry case that can be stowed on the Go-Pods floor.
Video demo courtesy of Jester Bushcraft.
SPECIFICATIONS FOR KHYAM AWNING - RRP £399.99
Stand-alone
Close divider door, 'roll & stow' the connecting section to provide a free standing separate tent.
Bedrooms
Optional inner
Sleeps (max.)
2 (with optional inner)
Doors
3 + divider door.
Windows
3 with internal privacy curtains
Poles
Rapidex solid fibreglass/Aluminium - quick erect system
Flysheet
Polyester Weatherweave pro
Inner tent
Optional accessory
Groundsheet
Optional extra - please see the Accessories section
Height
225cm
Weight
12kg
Packed size
115x29x29cms - carry case included
Please note that either the Khyam Tailgate XL or Khyam Tailgate will suit your Go-Pod. Both versions have the same living space & features but the XL version will also fit vehicles that are higher than a Go-Pod. We reserve the right to supply either version depending on availability.
KEY FEATURES
✔
Rapidex Quick Erect Design
✔
Offers additional sleeping area for families
✔
Large Living Area
✔
Includes Canopy Door Poles
✔
Multiple Windows
✔
Ideal for weekends away and longer stays
Go-Pods price - £300.00.
Fitting your awning:
The awning is not made by Go-Pods but is generic design that suits the Go-Pod well. Khyam, (the manufacturer of the awning), do not include an awning bead for attaching it, so you'll need to add this component yourself.

1. Purchase 50" / 1.27m of 6mm awning bead. Try eBay or your local caravan shop.
2. Sew the awning bead on to the awning, at the point where it will affix to the Go-Pods porch.
3. The attached awning bead slots in to the awning rail that is located above the Go-Pods door.
NB: Go-Tarps are supplied with your new Go-Pod and have the awning bead already attached.